Short Bio
The new Samplehound album Atmospheres, Vol. 2  is now available. It's a gentle album of synths, acoustic guitars, piano and nature sounds.
Samplehound is a project set up by UK musician and composer Rich Townsend.  Retired from a career in the commercial world, Rich, 60, now has the time and energy to develop his music, which he has been writing over many years. He is aiming  to release independently a total of 16 albums of new, high-quality music between 2020 and the end of 2024. Six albums are already released, with another two ready to be released before the end of the year.  
Rich's main inspirations for writing are people who have been important to him, and the beauty of the natural world.
Rich works with synthesisers and samplers to create music with the aim of making people feel good, something that is important in these difficult times. Rich uses elements from jazz, rock and classical music to create electronic music with strong melodies, beautiful harmonies and powerful dynamics. He creates acoustic and ambient pieces too, some of which are folk-oriented, others based on classical music or jazz. Some Samplehound albums will mix electronic and acoustic elements together; others will be purely acoustic. Some will be energising and uplifting, others relaxing and restful. 
Rich plays jazz piano in London big band King Groovy and the Hornstars.  He lives with his partner and their dog in south-east England.  He is a big fan of Chick Corea, Mike Stern, Pat Metheny, Lyle Mays, Bill Bruford, Eliane Elias, Donald Fagen, Peter Gabriel, Muse, Stevie Wonder and Michel Camilo. He is also influenced by the original generation of prog bands such as Genesis, Camel and Rush.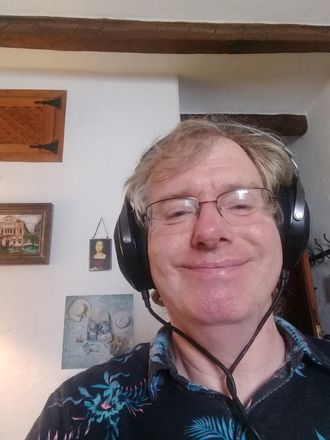 PRAISE FOR SAMPLEHOUND
"

Beautiful" - Kev Rowe
— Spotify Playlister
"

I loved every minute of this" - Luiness at Peace of Mind
— Spotify Playlister
"

Awesome" - Max Fedoseev
— Dreamy Soundscapes
"

Harold Budd had a few drinks with Weather Report and they all decide to make an album...Brian Eno pops by the studio and joins in, along with a guy from a local underground club who happens to have a modular on his person..." - Tony Flynn, Composer
— Sound on Sound Forum
Most recent single and album
Beside the Stream, Pt. 2
Samplehound Relax
A gentle piece featuring the sounds of birdsong and water
Read more…
Atmospheres, Vol. 2
Samplehound
0:00/4:23

0:00/4:02

0:00/4:15

0:00/3:22

0:00/3:34

0:00/4:03

0:00/4:00

0:00/4:21

0:00/3:36

0:00/3:47

0:00/3:54

0:00/4:08

0:00/3:02
SOCIAL MEDIA AND STREAMING